(For English, please scroll below)
ShopNEXT là mô hình mua sắm nhận thưởng tiền mã hóa (Shop-To-Earn Crypto) đầu tiên trên thế giới. Sứ mệnh của ShopNEXT là giới thiệu hàng tỷ người dùng eCommerce tham gia vào thế giới crypto. Để đạt được điều này, xây dựng được một cộng đồng vững mạnh và gắn kết là một mục tiêu hàng đầu.
Không như nhiều dự án crypto khác, ShopNEXT đã cho phát hành bản beta cho cộng đồng trước ngày IDO trên cả 2 hệ điều hành là iOS và Android để người dùng có thể trải nghiệm cũng như đóng góp ý kiến để chúng tôi hoàn thiện sản phẩm. Và để thể hiện lòng biết ơn cho những người đã sử dụng ShopNEXT trong thời gian thử nghiệm này, chúng tôi giới thiệu chiến dịch Airdrop token đầu tiên cho cộng đồng với 1.000.000 NEXT.
Bắt đầu từ 12h trưa ngày 23 đến 21h tối ngày 15 tháng 12 năm 2021 giờ Việt Nam, với mỗi đơn hàng mua sắm thành công thông qua app ShopNEXT, bạn sẽ có cơ hội nhận được giải thưởng lên đến 1000 token NEXT thông qua cơ chế bốc thăm trúng thưởng. Số lượng 1,000,000 NEXT token sẽ được phân bổ cho 1,000 người chơi may mắn.
Tham gia đợt airdrop của ShopNEXT với 5 bước đơn giản:
Gia nhập Telegram Global của ShopNEXT tại: https://t.me/shopnext_chat
Tải app ShopNEXT thông qua: https://shopnext.io/download
Thực hiện một giao dịch mua hàng thành công qua app ShopNEXT.
Chia sẻ Screenshot của giao dịch mua hàng thành công trong app ShopNEXT lên Twitter hay Facebook của bạn ở chế độ công khai với 3 hashtag: #shopnext #shoptoearn #NEXT.
Gửi link Twitter/Facebook post screenshot của bạn cho chúng tôi tại form này.
Luật chơi:
Mỗi người tham gia chỉ được tối đa 1 suất airdrop.
Người tham gia thực hiện lệnh mua hàng sau thời gian đã quy định sẽ không được tính.
Người tham gia phải thực hiện đầy đủ 5 bước nêu trên mới được tính là hợp lệ. ShopNEXT có toàn quyền loại bỏ các trường hợp tham gia không hợp lệ.
Người tham gia sẽ được nhận NEXT token ngay trong app ShopNEXT của bạn.
Danh sách người nhận aridrop sẽ được rút thăm ngẫu nhiên và công bố vào ngày 16/12/2021.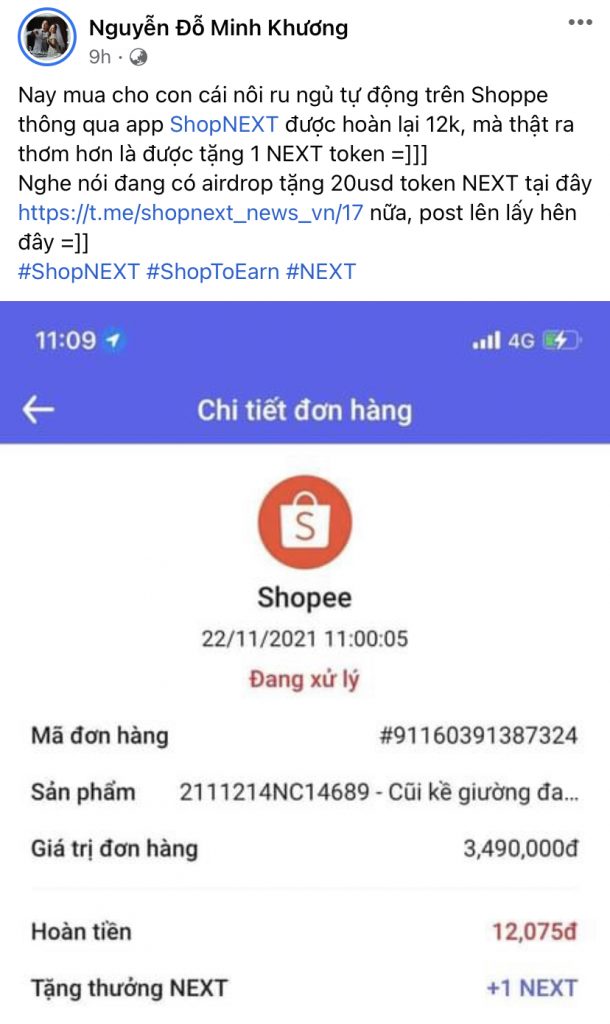 Vậy là xong, chúc mừng bạn đã hoàn thành đơn hàng Shop-To-Earn đầu tiên, hy vọng rằng mua hàng với ShopNEXT sẽ trở thành một thói quen mới hằng ngày của bạn.
Nhiều hoạt động hấp dẫn tiếp theo của ShopNEXT đang chờ bạn, hãy theo dõi chúng tôi qua các kênh truyền thông bên dưới nhé.
The ShopNEXT team.
Theo dõi các kênh thông tin:
---
SHOPNEXT COMMUNITY AIRDROP
ShopNEXT is building the first-ever Shop-To-Earn Crypto Onboarding platform to bring billions of people into the crypto space. To achieve that vision, building an engaged and strong community is a top priority.
Unlike most crypto projects, ShopNEXT released the beta mobile app before the IDO for both iOS and Android devices to let our users experience it. And to reward our early supporters, ShopNEXT will launch the first community campaign to airdrop 1.000.000 NEXT to our community.
Starting from 05:00 UTC on 23 Nov until 14:00 UTC 15 Dec 2021, everyone who makes a successful order through the ShopNEXT app will be able to join the lucky draw to receive 1,000 NEXT. A total of 1,000,000 NEXT will be distributed to 1,000 lucky users.
Participating in the Airdrop in 5 simple steps:
Join ShopNEXT Telegram Global Chat: https://t.me/shopnext_chat
Download our Beta Mobile app at: https://shopnext.io/download
Make a successful purchase through the ShopNEXT app
Show the world how our Shop-To-Earn model works by sharing the screenshot of your order in our app to your Twitter or Facebook in public mode with the hashtag: #shopnext #shoptoearn #NEXT.
Paste the link of your Twitter/Facebook post in this form.
Competition rules
Each user can win only one airdrop slot.
Users who make purchase orders out of the campaign time are not eligible for the airdrop
Participants must complete all 5 steps as stated above to be eligible to receive the airdrop. ShopNEXT has the right to neglect all invalid submission.
Users will receive airdrop tokens right at their ShopNEXT app.
The winner list will be lucky-drawn by ShopNEXT team and announced on 16th December 2021.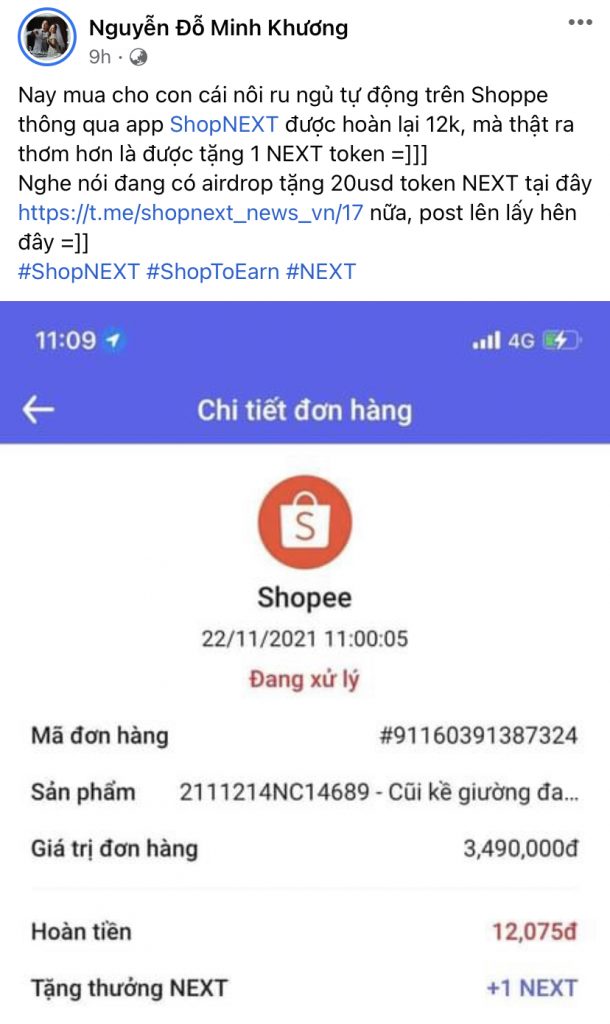 That is it! Congratulations on your very first shop-to-earn orders and hopefully shopping via ShopNEXT will soon become your new habit.
More exciting news to come, stay tuned!
The ShopNEXT team.
---
Follow our social channels and the NEXT journey: