Hi ShopNEXT community,
January 2023 was a green month for crypto and marked a huge milestone for ShopNEXT when we conducted a token swap and released the V2.0 mobile app in beta testing. Let's delve into how our app and token have performed in the past month.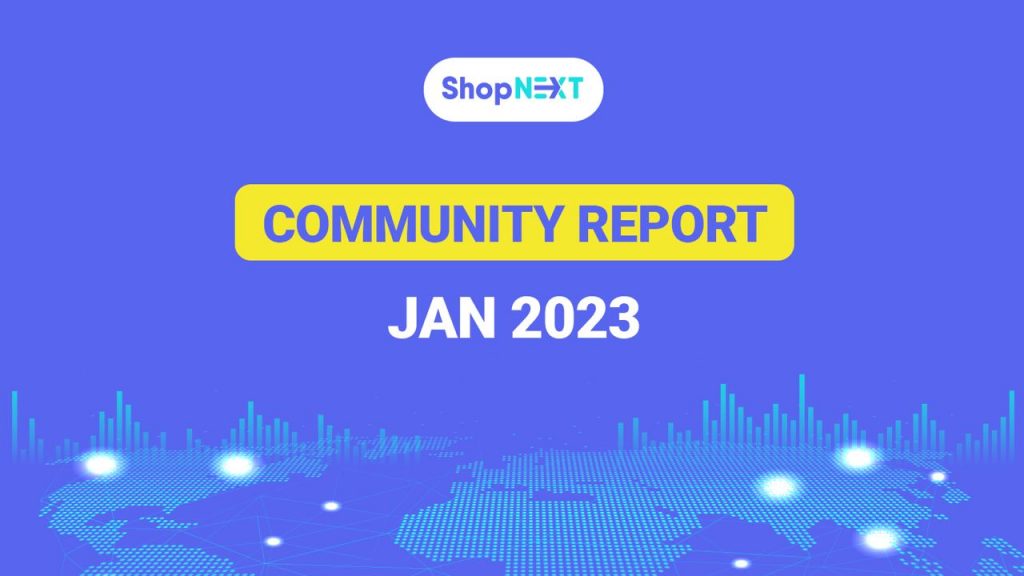 Key business figures:
Total MOONers: 31
Total NEXT locked: 139,031
Total tokens rewarded: 10,700 STE
Total tokens collected and burned: 3512 STE and 1074 NEXT
EPR: $680
Mobile app
We released the V2.0 mobile app in beta mode for early users to test the app. Overall, the app has been functioning well at its core features. The Visa card-linked function has worked well, and we would love to see our users paying with a Visa card in real life and getting token reward notifications instantly in the mobile app; see this cool video. We also want to thank our supporters, who have tested the app so thoroughly and reported bugs to our tech team. We appreciate your effort. Since our mobile app is still in beta, more polishing is needed to make it work flawlessly. In January, we had an average of more than 1.5K daily active users, quite impressive if compared to the famous move-to-earn STEPN, which currently has less than 4K DAU. Most of the users are Vietnamese, as this is our pilot market. We expect other markets to grow once we roll out the Visa card-linked feature in other regions.
Tokens
Last month, we conducted the NEXT token swap and also introduced a new token, STE. New NEXT is currently traded on Gate.io and Pancakeswap. STE, our new rewarding token, is currently traded on PancakeSwap. NEXT is our loyalty token, while STE is the rewarding token for users shopping via our mobile app.
Since the V2.0 mobile app's release, 31 MOONers have locked a total of 139,031 NEXT for at least 180 days. For newcomers who may not be aware, MOONers are our VIP members who can earn the most benefits from our ecosystem. Users must lock $300 in NEXT in order to upgrade their MOON membership and use NFT cards to boost token earning.
From our in-app gameplay, we collected 3512 STE via boosting, recharging, and opening the NFT cardcases. Those STEs have been burned by sending to a dead address. We collected 1074 NEXT from in-app gameplay and NFT marketplace trading fee; these NEXT will be burned as well.
EPR
ShopNEXT is the first to introduce an External Profit Reserve (EPR) to capture external profit from our business and back STE tokens rewarded for shopping.

Total STE rewarded for shopping (including processing transactions): 10,700 STE
EPR value (including processing transactions): 680 USD
What next?
We will continue to fix bugs in our beta app
We are in discussion with a giant partner.
More merchant partner deals are coming.
Marketing campaigns will be carried out to attract more users.
Our journey has just started, and we're happy to see people using Web3 in their daily lives.
#ShopNEXT #Web3LoyaltyPlatform $NEXT $STE
---
ShopNEXT is a Web3 Loyalty Platform powered by Visa and Binance Pay. We utilize card payment, NFT and gamification to invent the Shop-To-Earn model. ShopNEXT allows users to earn token rewards from daily shopping while helping merchants grow their businesses. ShopNEXT token is a kind of loyalty point but the difference is that it is developed on blockchain and exchangeable. For more news and latest updates about ShopNEXT, please visit ShopNEXT's Website – Discord – Telegram – Twitter – Facebook or email to hello@shopnext.io.