Hello MOONers,
It's been four days since our V2.0 mobile app was released. We thank you for your feedback and suggestions. This release is still in public beta testing, so lots of polishing must be done to make it shiny. Nonetheless, the current app depicts the workflow perfectly: from linking your Visa cards to upgrading your MOON membership and earning your first STE from card transactions. I hope you enjoy using our app as well as experiencing how Web3 can be used daily.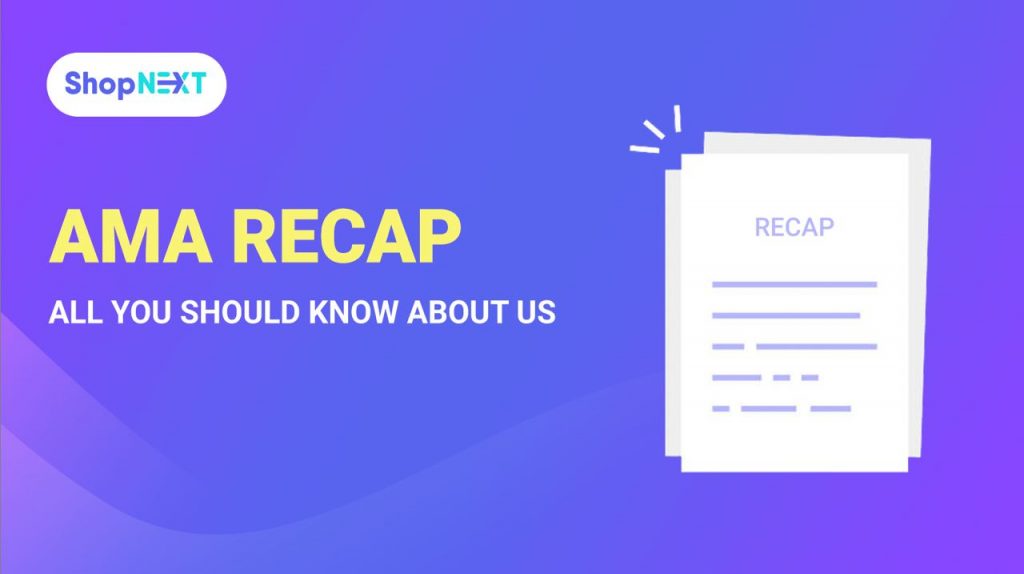 Yesterday, we had our first AMA with the global community on our Telegram group. It was wonderful to be able to open up to participants about our journey thus far and our goals for the future. Let's recap the most interesting topic we discussed last night.
1. Brief introduction about ShopNEXT?
ShopNEXT is a Web3 Loyalty Platform powered by VISA and BNB chain. We utilize card payment, NFT, and gamification to invent the Shop-To-Earn model.
ShopNEXT allows users to earn token rewards from daily shopping while helping merchants grow their businesses. ShopNEXT token is a kind of loyalty point, but the difference is that it is developed on blockchain and is exchangeable. Users can make money by selling the token on cryptocurrency exchanges. That's how Shop-To-Earn works!
Find out more about us:
Website: https://shopnext.io
Whitepaper: https://docs.shopnext.io
45s intro clip: https://youtu.be/wzoaFOwRxC8 
Visa partnership announcement: https://www.visa.com.vn/en_VN/about-visa/newsroom/press-releases/shopnext-partners-with-visa-to-launch-the-first-ever-web3-loyalty-platformthough.html
V2.0 Mobile app download: https://shopnext.io/download
2. Why do we need to release V2.0? What's wrong with V1.0?
V1.0's business model was great, and we got users all over the world. But, we have some fundamental problems with the V1.0 business model:
Affiliate models cannot offer instant rewards. Users keep complaining about reconciliation time.
It takes time to integrate affiliate systems with new merchants, and merchants are different from country to country.
Because we used our main token ($NEXT) to reward, it was difficult to keep the dilution under control as the number of users increased.
That is why we partnered with Visa to solve all these problems by creating a new business model V2.0.
3. Brief introduction about V2 and its gameplay
Still adhering to our ultimate vision on Web3 onboarding, ShopNEXT will build a model that can reward users instantly, scale globally, and be fully controllable by us. That is why we partnered with Visa to launch a model where everyone can get rewards for daily spending at any Visa-accepting merchant.
To make payment more fun, ShopNEXT built a gameplay where users can boost STE rewards by collecting NFT cards. 10 NFT card categories cover the 10 most common shopping areas. Each NFT card is unique by attributes like earning, karma, capacity, and power. It's a lot like the NFT sneaker of StepN(move-to-earn). The more cards users hold, the more rewards they can earn during shopping.
4. What is NEXT and what is STE?
NEXT is our loyalty token with a 100,000,000 total supply and STE is our unlimited rewarding token. Both of them are built on BNBChain. Their utilities are different and can be seen below. More information about NEXT and STE can also be found in our FAQ section;
5. Why do we need to swap old NEXT tokens? Why is the rate 10:1?
We built a V1.0 mobile app in 2021 with very simple smart contracts, which are not sufficient for the V2.0 business model,  so from a technical point of view, there must be a contract upgrading or token swap to happen. 
In the V1.0 business model, old NEXT was used as reward tokens to distribute users, so we started with a total supply of 1,000,000,000 tokens. In the V2.0 model, NEXT is no longer employed for that purpose, we have STE (ShopNEXT Reward Token) instead for that role. As such, our team thinks that a 1,000,000,000 total supply is too many and may devalue our main loyalty tokens, so the team decided to scale the total supply down to 100,000,000, which is why we have a swap rate of 10:1.
The last reason is for the chart. We launched the old NEXT when the crypto market was at ATH so over the year 2022 the chart went all the way down for most of the crypto projects. The bearish chart does not appear to be promising, so we will use the opportunity of smart contract migration to relaunch a new NEXT chart (hopefully this time at ATL 🙂).
6. How does this NFT gameplay differ from other GameFi projects? 
To begin, it is how we design STE balance and its role.STE has two balances in the app: spot and earning. Only STE earned from earning balance can be used to redeem NFT card cases, ensuring that NFT card inflation does not occur as it has in previous Gamefi projects.
All the redeemed STE for NFT card cases and the collected STE from ShopNEXT gameplay are burned.
STE withdrawal limit is higher than the minimum redemption level. As such, we encourage users to redeem rather than cash out
We have an external profit reserve (EPR) to ensure that the STE price never falls to zero. Unlike other blockchain projects which have no external revenue, ShopNEXT can generate economic revenue through shopping activities. All the profit from potential business (affiliate business, interchange fee, merchant commission) will be stored in the EPR to back all STE tokens issued on the market. The purpose of the EPR is not to make STE a stable-coin; it is to make sure every token has an intrinsic value that is generated by our users through their shopping. 
7. What can we do with the airdrop card cases now?
You can download the V2.0 mobile app at: https://shopnext.io/download, then upgrade your membership to MOONer to open the NFT card case. After that, you can either sell the NFT card in our in-app NFT marketplace or use it to increase your STE reward earnings in your daily shopping.
8. Can we still have affiliate rewards in the V2 business model?
Yes, people can still earn STE from affiliate deals in our Partner deals: https://docs.shopnext.io/whitepaper/how-to-play/partner-deals. 
To earn STE from affiliate deals, users do not need to be MOONers. We also offer Visa-card deals and voucher deals for users to earn more STE.
9. How does the partnership with Visa help the team to grow?
First of all, we are selective in our partnerships; last year we partnered with Binance Pay, and now we have signed a partnership with Visa. Those big names help us prove our legitimacy and long-term vision. The partnership with Visa, in particular, allows us to create a Web3 daily app—a Web3 app that users all over the world can use daily. More than that, Visa also helps us seal more legit partners and opens the global gateway to enter other markets much faster.
10. The expansion plan of ShopNEXT to other markets?
Vietnam will be the first pilot market to launch, but soon we will roll out to other countries. We conducted a poll just a couple of days ago, and our community voted for the APAC region as our top priority. But rest assured that we will expand to other countries as quickly as we can. Please keep in mind that regulations differ from country to country, so much work must be done for card links to work in every country.
11. What is a MOONer and what are its benefits?
MOONer is a VIP member of the ShopNEXT platform who receives the most benefits. To become a MOONer, users must lock $300 or more into Next. Below is a detailed comparison between a normal member and a MOONer.
12. What is the ShopNEXT marketing plan?
Our marketing strategy is an intelligent blend of owned, earned, and paid media, allowing us to spread our ShopToEarn model with Visa cards around the world.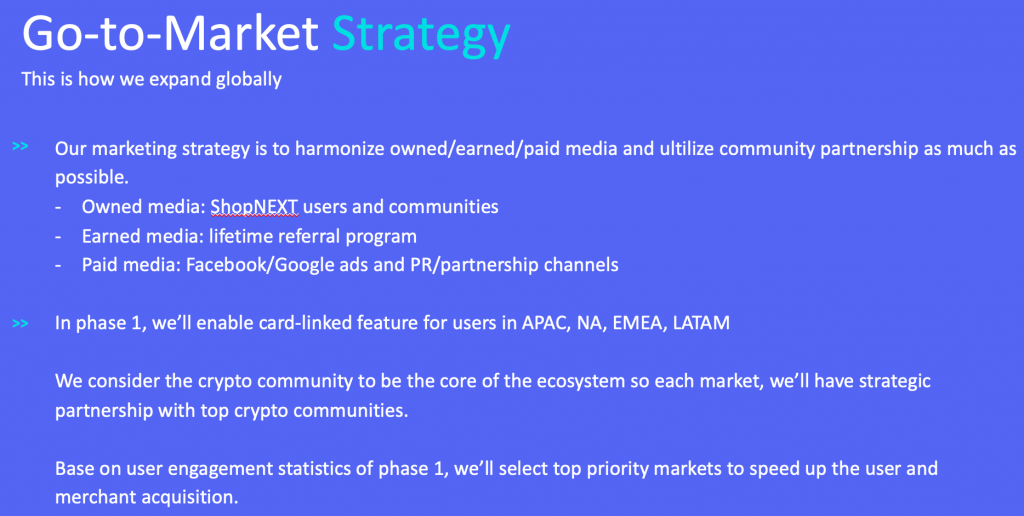 13. Once ShopNEXT expands globally, users will grow exponentially. Is the app built well enough to handle all the traffic?
Of course, we have thought about this potential issue and its solution. Our infrastructure is located on the cloud, so expanding speed and security are not a big concern. We are also working closely with one of the biggest names in the field to optimize our database and platform. More about that will be released in due course.
Once again, thank you all for spending your time with us during the amazing AMA, and we hope to see you soon.
---
ShopNEXT, a Web-based loyalty platform, is at the forefront of the ShopToEarn trend.
Find out more about us here: https://linktr.ee/helloshopnext